The beauty of blogging lies in its limitless potential to generate income. As you hone your skills, your blog becomes a magnet for like-minded individuals seeking guidance, advice, and entertainment.
You collaborate with brands, forging partnerships that not only align with your values but also allow you to monetize your platform. These partnerships not only provide financial rewards but also open doors to exciting opportunities and exclusive experiences.
Location independence grants you the gift of exploration. With the ability to work from anywhere, you find yourself traversing the globe. One day you find yourself savoring the delectable street food of Bangkok, while the next, you're exploring the vibrant markets of Marrakech. Your blog acts as a canvas to paint vivid portraits of your adventures.
Financial freedom is the ultimate reward for your dedication and passion. As your blog grows in popularity and influence, the income streams multiply, allowing you to live life on your own terms. You relish the feeling of financial stability, knowing that you can pursue your dreams, support your loved ones, and contribute to causes close to your heart without hesitation.
Blogging offers you a gateway to a life of location independence and financial freedom. With dedication, creativity, and perseverance, you can turn your passion into a thriving business that opens doors to a world of possibilities.
Let's dive in for a more in-depth discussion of making money from your blog.
Table of Contents
Factors that affect your ability to earn revenue from blogging
If you're considering a career switch to become a full-time blogger, it's important to understand factors what will affect your ability to make money from your blog and become financially free and location independent.
Choose an Evergreen Blogging Topic
Choosing an evergreen blogging topic can help you generate consistent traffic and revenue over time. Evergreen topics remain relevant and interesting to readers over time, such as health and wellness, personal finance, and travel.
Niche selection and market demand
Choose revenue streams that align with your blog's niche and audience. For example, if you have a travel blog, you may want to focus on affiliate marketing for travel products or sponsored posts from travel companies.
Some niches are highly competitive while other will be easier to rank for but may not be profitable. The key is to find a niche you are passionate about, is not competitive and provides lucrative monetization options.
Using the travel blog example again, a budget travel blog is going to be harder to monetize and will generate less revenue than a luxury travel blog. A luxury travel blog can likely generate good revenue with a smaller readership and less traffic.
Continuous self-improvement
Investing in yourself can help you improve your skills and knowledge, and create better content for your blog. Consider taking courses or attending conferences related to your niche, or investing in tools and software that can help you optimize your blog's performance.
Quality and consistency of content
Successful blogs can take a long time to build. It's important, especially when you blog is small, to put in the time and effort to produce content even when you are receiving no traffic.
Be Disciplined and Focused
To succeed as a full-time blogger, you need to be disciplined and focused. It's important to use an office or study for blogging, if it's not possible to have a separate room allocate a space where you work exclusively on your blog.
Your workspace should be free from distractions as possible. Avoid using your phone, or at least disable notifications so that you can concentrate on your work.
Have expertise and authority
To succeed in your chosen niche, it's crucial to possess or acquire expertise and authority. For instance, if you want to be a successful travel blogger, you need to travel and share your experiences through blogging. It may sound obvious, but many bloggers write about topics they aren't familiar with or lack personal experience in.
Google, with its E-E-A-T (Experience, Expertise, Authority, and Trustworthiness – pronounced "double eat") guidelines, values and rewards these qualities when ranking your content.
Adaptability and Diversification
In the fast-changing world of blogging and technology, being adaptable and diversifying your approach is crucial. You need to be able to roll with the punches and navigate through the evolving landscape.
Google's search engine will be affected by the rise of AI technology. I've written previously about leveraging AI to help with your content generation.
New tools and technologies are constantly entering the market, and people's preferences and trends are always changing. It's important to be adaptable so that you can adjust your strategies and keep up with the ever-changing landscape.
Make sure you have multiple channels and platforms to share your content, in case a platform becomes unavailable, you lose access, or the rules change in a way that hampers your ability to reach your audience.
SEO strategies and Keyword Research
Although your content should be people-first that doesn't mean you can ignore optimizing your content for search engines. Keyword research is essential to ensure content is useful and relevant to your target audience.
Social media presence and promotion
Publishing an article is just the beginning – promotion is equally important to reach a wider audience. You can repurpose your content to social media platforms and include a link to the original blog article.
Building relationships with brands and advertisers
Depending on your niche it may be useful to build and nurture relationships with key people and brands for your niche.
Take advantage of social media platforms to connect with people and suggest mutually beneficial solutions that contribute to their business growth.
Exploring the Different Revenue Streams
There are various ways to make money from your blog and generate income. However, not all these methods may be suitable for your specific niche and target audience. Some approaches, such as advertising, may require a significant amount of website traffic to be worthwhile.
Advertising revenue (use Google AdSense or other ad networks)
Affiliate marketing (join networks like ShareASale or others)
Sponsored content and brand collaborations
Selling products or services (offer products or services directly on your website)
Membership subscriptions (provide premium content on your website)
Donations and crowdfunding (encourage tips or donations on your website)
When it comes to commercial transactions, you have a couple of options to consider. Firstly, you can set up a payment system directly on your website using platforms like WooCommerce, which is ideal for WordPress websites. Alternatively, you can utilize third-party platforms like Shopify or Etsy to handle transactions for your products.
revenue share from the Google Adsense platform. Other ad networks provide higher revenue shares.
Don't think you have to use Google AdSense if you decide to include ads on your blog. There are other ad platforms out there that might be a better fit for your blog, especially in the beginning when you may not meet Google's eligibility requirements (AdSense Site Approvals Playlist).
For membership sites that contain premium content you can either add this feature to your existing site (for WordPress websites a number of membership plugins exist) or use a site like Ning that specialises in building a community with membership levels and premium content.
Common Obstacles Faced by Bloggers Wanting to Make Money from Their Blogs
Monetizing a blog can be a challenging process, and bloggers often face several obstacles along the way. Here are some common obstacles faced by bloggers wanting to make money from their blogs:
Lack of Clear Topic and Niche
Spend some time to think about what niche and target audience you want to target. For help on deciding your niche read this article: The Ultimate Guide to Finding the Perfect SEO Niches for Your Business or Blog
It's worthwhile to research competitors to see what strategies and keywords they are targeting. Generate some competitive research reports to check out the competition before committing to a niche.
To get you started, below is a widget to generate a competitive research report. Just type in the domain of a competitor to see what keywords, traffic and ads they are using:
Inconsistent Content Production
Try to be consistent in producing content. Regular output of new content gives readers reasons to keep coming back to your blog. Google will also crawl your website more often if it detects regular new content appearing.
No Audience
It's normal to feel discouraged when you don't see much traffic and readership, especially at the beginning of your blogging journey. Building a sizable audience that consistently visits your website requires a significant investment of time and effort.
Lack of Quality Content
Lack of quality content can be a significant obstacle for bloggers. It's important to create high-quality content that is informative, engaging, and relevant to your audience.
Use an SEO audit tool to verify your content doesn't contain issues that are holding you back. Use keyword research to find out what keywords you should be targeting for your niche and target audience.
Below is a widget you can use to generate keyword research reports. You will get information on monthly search volume, competition and difficulty for a keyword and related keywords. Just type in a keyword phrase such as "keto diet":
AI tools can be very helpful in proofreading your content to find and fix grammar and spelling mistakes.
I use AI to proofread all my content before publishing. I've written an article on using ChatGPT for copywriters and a more basic how to chat with ChatGPT article for beginners.
For bloggers who prefer an easy to use interface rather than a command prompt you can use Copy.AI or ArticleForge.
Monetization Challenges
Monetization challenges can be a significant obstacle for bloggers. It's important to choose revenue streams that align with your blog's niche and audience and to invest in yourself and network with other bloggers to stay up-to-date with industry trends and best practices.
Lack of Motivation and Discipline
Motivation and discipline are essential for bloggers to succeed in monetizing their blogs. It's important to have discipline and focus, create time for research, writing, promotion, family, and distractions.
No Traffic
Dealing with low traffic on your blog can pose a significant challenge for bloggers. It's important to prioritize SEO, social media, and other marketing strategies to attract a larger audience to your blog.
Ensure that your content is created with a people-first approach, rather than solely targeting search engines. Google has the ability to penalize websites it considers low quality or solely focused on search engine rankings, rather than providing valuable content to readers.
Absence of Feedback
Absence of feedback can be a significant obstacle for bloggers. It's important to engage with your readers and encourage them to leave comments and feedback on your blog posts.
Final Thoughts
I hope you found this article informative and interesting. Here is a quick recap of the article:
Pick appropriate revenue streams based on your niche
Pick a niche that has good monetization options and isn't too competitive
Consistently create high quality content
Patience, determination and focus are required to be successful
Learn and improve your skills over time
If you found this article helpful, please consider sharing it with your network by using the social media sharing buttons below. Thank you for your support!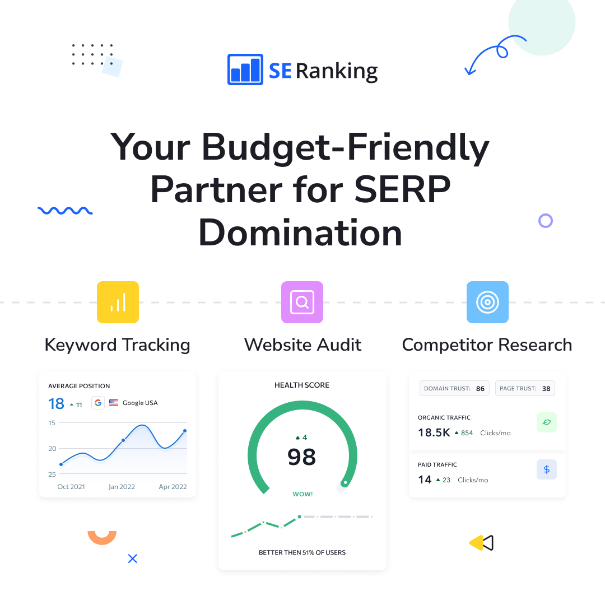 Recommended SEO and Keyword Research too: SE Ranking